STORIES AROUND THE TABLE
NEW RELEASE: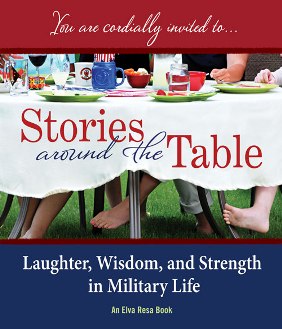 SUMMARY
Named an INDIEFAB Book of the Year Finalist by Foreword Review.
An unprecedented collection from more than forty military family writers, who share personal stories and lessons learned from their military life experience. From poignant to practical, tragic to humorous, these candid conversations shed heartfelt insight on many aspects of military life, including friendship, depression, romance in military marriage, caring for children with special needs in a mobile lifestyle, renewing relationships after deployment, career challenges for spouses, changing schools, post-traumatic stress, faith, grief, and more.
Kristin Henderson's true story contribution, "Alive Day", describes her visit to Walter Reed National Military Medical Center with her combat-stressed husband — not as patients, though. As volunteers… with surprising results. Sometimes it's not always clear who's getting the most out of a so-called act of charity.
EXCERPT from "Alive Day"
featured in Stories Around the Table:
My husband Frank and I were having a bad day.
We were on the Beltway around Washington, DC, headed for Walter Reed National Military Medical Center. We were fighting about something stupid, I don't even remember what anymore. Oh wait, yes I do. I thought he was driving like a maniac and he thought I was a controlling bitch.
At Walter Reed, we were supposed to meet up with my co-worker but I wasn't sure where. We got out in a parking garage and slammed our doors. Frank went one way and I went another. Eventually, we did all wind up in the same place: outside the locked psychiatric ward, waiting for the staff to let us in. We were pushing a cart piled high with pizzas and sodas. It was the Fourth of July and we were the party…
READER REVIEWS
"Each entry is written with emotional impact, and you will find yourself laughing, remembering, or grabbing a tissue and pausing to reflect on something that grabs at your heart and won't let go."
~ Amazon.com reader